---
The Glory of Song
Sat, 18 Jun 2022
Our Program included:
Zadok the Priest - Handel
Cantique de Jean Racine - Faure
The Heavens are Telling - Haydn
Ave Verum Corpus - Mozart
The Hallelujah Chorus - Handel
We were accompanied by Geoff Urquart on the organ and harpsichord, Brienne Gawler on the oboe and the Monash Chorale Chamber Orchestra, whose members were local tertiary music students.

Geoff Urquart also performed Bach's Prelude in G on the harpsichord.

We were conducted by our musical director, Anne Friend.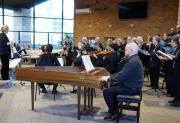 View photos