Anne Friend
MA (Choral Conducting), San Jose, CA., B.Mus. Ed. (Melb)

Anne Friend joined the music staff at the Presbyterian Ladies College (PLC) in Melbourne in 1991 and is currently Head of Music Curriculum there. Her duties include teaching music at year 7 and Year 11 and 12 International Baccalaureate Music along with conducting the Harmony Choir. Her work has included being Musical Director of PLC productions of Pirates of Penzance, Godspell and Joseph and His Amazing Technicolor Dreamcoat and preparing the singers for the Schools' Musical "The Getting of Wisdom".
Most of Anne's work involves Education, and she has given Conducting Workshops for Monash University and ACCET Summer Schools. She was an examiner for the Victorian Certificate of Education in Music – Solo Performance. She has worked with the committee for structuring the Curriculum Standards Framework for Music in Victoria and has been an examiner for the VCE Solo Performance Exams and for the International Baccalaureate Music Examinations.
Prior to her work at PLC, Ann was Music Co-Ordinator at Blackburn High School (1977-87), where she taught Music at year 7/8 &9 and Year 12 Music History and conducted the Senior Singers. She also sang with Tudor choristers, Melbourne Chorale and Faye Dumont Singers. She studied singing with Joan Dargavel and conducting with Robert Rosen, Faye Dumont, and Rodney Eichenberger. The Blackburn High School Singers, which she conducted through the 1980s, won both Waverley and Ballarat Eisteddfods, and Anne was awarded the Conductor Trophy at Ballarat.
Anne then spent time in the USA, where she studied conducting with Dr. Charlene Archibeque and attended Choral conducting seminars and Summer Schools with Dr. Eph Ely, Paul Salomunovich, Dr Dan Hoggatt and Dr. Axel Theimer. Her Choral demands included singing with San Jose State University Choir, SJSU Choraliers, SJSU Alumni Chorale as well as Conducting the SJSU Choir and being Director of Music at St Philips Episcopal Church, San Jose (1988-1991) and Director of Music at the College Preparatory School, Oakland California (1989-1991).
Since returning to Australia, Anne has also been involved in community music in several roles. She conducted the Southeastern Philharmonia Choir for ten years, and for three years was Music Director at Auburn Uniting Church where she organised the Music for weekly services and conducted the Choir. Anne now continues as Assistant to the Director and Cantor. Her involvement with the Southeastern Philharmonia began in 1993 and during her ten years she prepared and conducted over thirty concerts ranging in styles from the Renaissance to the Twentieth Century, both a capella and accompanied by piano, organ or chamber ensemble.
As a lifelong learner and educator, Anne hopes to encourage as many people as possible to include music in their lives at one level or another and feels that those who take that risk open themselves to a rewarding journey for the rest of their lives.


Robert Dora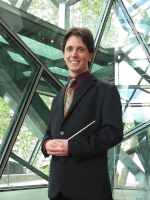 Known as much for his compelling conducting and performances as for his highly dynamic repertoire programming, Robert's concert performances include a huge range of full orchestra and vocal repertoire, regularly including performances with acclaimed national and international soloists (including the likes of pianists Tony Gould and Natasha Lin, MSO violinist Ji-Won Kim, international sopranos Shu-Cheen Yu and Maria-Cristina Keightley, percussionist Brent Miller, clarinetist Aaron Klein, tenor Nick Seidenman, baritone Oliver Mann and others).
He is Chief Conductor of the Australasian Orchestra, the Melbourne Lawyers' Orchestra, the Monash Medical Orchestra, the Monash Chorale and since January 2017 has been the main conductor of the Preston Symphony Orchestra. Having recently ended a four year conducting stint of the Monash University Choral Society (MonUCS) as their chief conductor, he also regularly guest conducts other orchestras throughout Victoria, including the semi-professional Nicholas Chamber orchestra (that he started conducting one concert a year with as of 2017). Groups for which he was previously Chief conductor of also include Savoy Opera Company and Dandenong Ranges Orchestra.
Like his long time conducting mentor, the late Professor John Hopkins OBE AM, he is a powerful advocate for the performance of new and established Australian compositions and whenever possible, endeavors to include these in concerts he conducts. Robert's non-conducting work includes orchestral composing and conducting lecturing (having lectured in conducting at both Monash University and Melbourne University over four years).
He is a commissioned composer, mostly of full orchestral works, notably including his very well received Symphony No. 1 ("Symphony to an ANZAC") and Lex Overture. Being a proponent of new Australian music he is committed to frequently performing works by other contemporary and Australian composers, in recent years giving premieres of around 20 orchestral works.
Robert has a Master of Music degree from the University of Melbourne, specializing in orchestral conducting under the guidance of late Professor John Hopkins (OBE, OA). He has also received degrees from Monash University, doing a Bachelor of Performing Arts and a Bachelor of Music (which included Honours year in orchestral conducting following doing Classical voice for the other years of his Bachelor of Music Degree). Having performed as a violinist in various orchestras during his youth, he privately teaches voice, violin, conducting and music theory.